Appointment Information: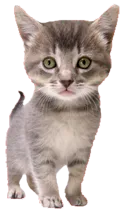 Monroe Road Animal Hospital will attempt to accommodate scheduling requests to the best of our ability. We also take walk ins on a work in basis. Emergencies are taken on a priority basis. If you feel you have an emergency, it is best to call before coming in so that our staff can prepare and advise you on your particular emergency.
Routine Veterinary Care
Monroe Road Animal Hospital provides routine care such as vaccines, microchipping, spay/neuter surgeries and wellness procedures just to name a few.
Emergency & Urgent Care

We have personnel on duty Monday thru Friday who are trained and equipped to handle any emergency care your pet needs. Usually our team consists of at least one veterinarian and several technicians working together. Emergencies can consist of ingestion of poisons, trauma or a myriad of other severe anomalies. If you ever feel that your pet needs emergency treatment do not hesitate to call.
Monroe Road Animal Hospital Welcomes
Dogs
Cats
Rabbits*
Pocket Pets*
Reptiles*
Birds*
Small Farm Animals*
*Select veterinarians only so please call for an appointment
Monroe Road Animal Hospital offers discounts to senior citizens and active military personnel. We also work with several rescue organizations in the community.